David gained national and international recognition because of his important role in the preservation of the Passamaquoddy culture through the construction of canoes and birchbark baskets and etchings. Canoe building and basketry are pre-Colonial traditions that were close to being lost when David started to work with them.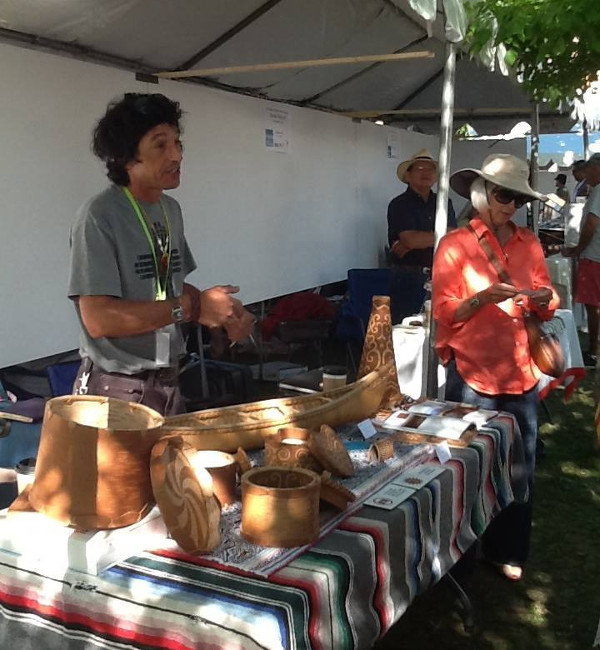 A descendant of a family of very well known brown ash and sweetgrass basket makers–like his grandmother Beatriz Soctomah–David was a self-taught maker of birch bark baskets, a tradition associated with the men of his tribe. He studied the designs and technology used by his ancestors, and introduced his own designs and technological innovations in the construction of baskets. Part of his educational work was focused on basket making workshops in schools, museums, cultural centers, National Parks Services, and universities, where David not only taught how to make baskets but also promoted a wide range of knowledge about the Passamaquoddy culture. Considered pieces of art, his baskets were exhibited in different museums in the United States and South America. Among others, his baskets are part of the permanent collections at the Abbe Museum, Hudson Museum, Passamaquoddy Cultural Heritage Museum, Eiteljorg Museum, Heart Museum, Andrew Wyeth Collection and the National Museum of the American Indian, part of the Smithsonian Institution. In addition, David's work in basketry was awarded recognition and prizes at such important markets like the Santa Fe Indian Market, New Mexico (2014) and the Heard Museum Indian Fair and Market in Phoenix, Arizona (2015).
David's baskets reflect of the utilitarian forms devised by his ancestors and display traditional as well as his own designs and innovations based on the limitations and attributes of the material.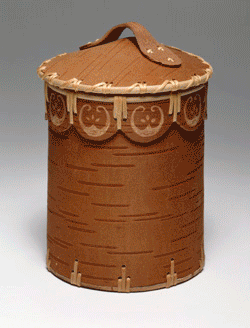 Traditionally, the baskets were made as food storage containers, gathering baskets, plates, cups and bowls, etc. They were utilitarian forms, yet the ancestors took every opportunity to embellish and beautify their work with double-curve designs, geometric patterns and, later, with animal and human figures. These curves were included in the anthropomorphic images of three-thousands-year-old petroglyphs found on our ancestral homeland. My winter bark etchings emulate those traditional pieces. Because of that, I use the double-curve motif and animal imagery
---
David's words in the book The visual Language of Wabanaki,
written by Jeanne Morningstar Kent, 2014, pp. 120
In the beginning of his career David's etched baskets followed a more traditional style, but over the years his decorative designs evolved:
The traditional way of depicting zoomorphic or human imagery is through two-dimensional figures in profile… So in the early 2000s, I tried to flesh them out by using double curves. I randomly started filling them out, trying to make it seem like there's more depth, and filling out the (one-dimensional) animal that was the traditional ancestor's way of depicting them trying to bring out fullness, rather than an image in profile
---
David's words in the book Basket of the time, Profiles of Maine Indian Basket Makers, written by David Shultz, 2017, pp. 32.
In addition to birchbark containers (folded baskets, cylindric and oval boxes, heart shape baskets, plates, bowls, cups and firewood containers), David made moose-calls and picture frames like his predecessors. Etched birchbark panels became David's signature pieces, depicting zoomorphic and anthropomorphic figures of owls, moose, fishes, crabs, men, bird/men and fish/women as well as double curves and other Wabanaki designs. He also explored new shapes and objects made from birchbark: coat holders, knife sheaths, crowns and ceremonial arrowheads.
Some baskets and panels made by David during his last years of life reflect the integration of his own life story on his decorative designs. In 2012 David created a new kind of basket in his career, "the story basket", now part of the Abbe Museum permanent collection. For David, the illustrations in this basket depicts his own family: his pregnant wife and second son asking for food; his oldest son pulling a sled; David going hunting, calling a moose and carrying a canoe on his shoulders. The Illustrations in this piece are present on exterior sides, bottom and cover, and interior bottom and inside cover. In 2013, while he was undergoing cancer treatments, he made a series of panels with etched skeletons as the only figures. In 2016, he finished a unique panel called "Peskotom", now part of the Morrison private collection. Unlike previous panels in which David represented a single fish fully decorated inside, in this one he represented several decorated fishes that overlap with each other. For David, this panel represents the return of his creativity after months of "creative emptiness" post chemotherapy and radiation treatments.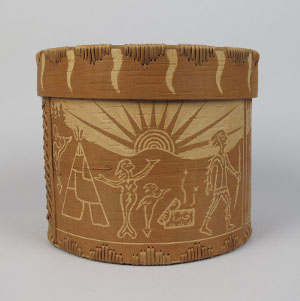 As a member of the Maine Indian Basketmakers Alliance since 1996 David exhibited at several indigenous gatherings, folk festivals and museums. He also visited several museums as an artist, researcher and consultant.
---
Exhibits and Shows Featuring David's Work
| | |
| --- | --- |
| 2008 to Present: | Passamaquoddy Cultural Heritage Museum, Indian Township |
| 2008 to Present: | Sipayik Cultural Center and Museum |
| 2018: | Portland Museum of Art Biennial: Portland Museum of Art, Portland, ME |
| 2017: | Twisted Path IV: Vital Signs: Abbe Museum, Bar Harbor, ME |
| 2015: | Heard Museum Indian Fair and Market in Phoenix, Arizona |
| 2016-2017: | People of the First Light: Abbe Museum, Bar Harbor, ME |
| 2014: | Santa Fe Indian Market, Santa Fe, NM |
| 2014-2015: | Branching Out: Trees as Art from: Peabody Essex Museum, Boston MA |
| 2013: | Wabanaki Guides: Abbe Museum, Bar Harbor, ME |
| 2012-2017: | Native Voices: Boston Children's Museum, Boston MA |
| 2010: | Twisted Paths: Abbe Museum, Bar Harbor, ME |
| 2009: | Waponahki: Pueblos del Sol Naciente: Museo Gustavo Le Paige, San Pedro Atacama, Chile |
| 2008: | North by Northeast; Akwasasne Museum, NY, Mashantucket Museum, CT, Abbe Museum, ME |
| 2008: | Only Connect; Aucocisco Gallery; Portland, ME |
| 2008: | Where the Wild Things Are: Florida Gulf Coast University Art Gallery; Fort Meyers, FL 2006: Community Spirit; Journey Museum, Rapid City, SD |
| 2006: | Mawooshen; Penobscot Marine Museum; Searsport, ME |
| 2004: | Masq; Hudson Museum; Orono ME |
| 2001: | Work of the Hand; Maine Coast Gallery; Rockport, ME |
| 2000: | Hands of the Ancestors; South Shore Arts Center, Cohasset, MA |