David Moses Bridges (1962-2017) was an artist, educator, political activist, and cultural promoter. David belonged to the Passamaquoddy tribe from the Northeast of the United States which, along with the Penobscot, Maliseet, and Micmac integrates the Wabanaki Confederacy. David was raised between the city of Portland, Maine and the native Reservation of Sipayik (Pleasant Point), the latter being the oldest settlement of the Passamaquoddy tribe. According to archaeologists, the human occupation in this territory dates back to 12.000 years ago.
David's artistic, educational, and political discourse always emphasized the relationship between culture and nature. For David, the Passamaquoddy People would not exist without their deep knowledge and adaptation to their environment. His teachings consistently referred to the importance of knowing and being aware of where we live, a very different value to the disconnect between humans and the environment understanding in our modern culture. David believed that the preservation of natural spaces and passing on traditional knowledge and skills from one generation to the next were vital to the health of the environment, people, and their communities.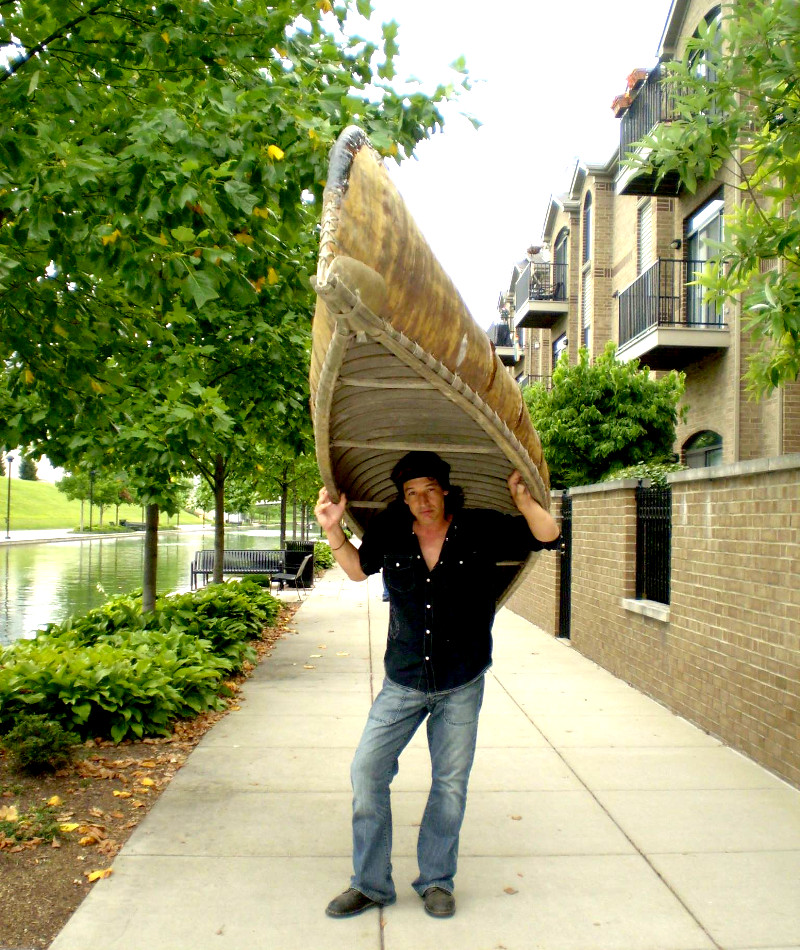 David's work also appealed to a deep respect for his ancestors. David believed that the teachings of his ancestors enabled the Passamaquoddy to survive for millennia in an extreme environment characterized by frigid winter, and to sustain their people and culture through the colonization process.
Being an artist who uses the traditional techniques developed by the ancestors I understand the connections that must be maintained with our land, and our culture. This work is not mine alone, it belongs to the next generation. Whether I am working as an artist or an environmental advocate the most important lesson I can teach is that this work is a continuation of the ancestors work.

David Moses Bridges, 2014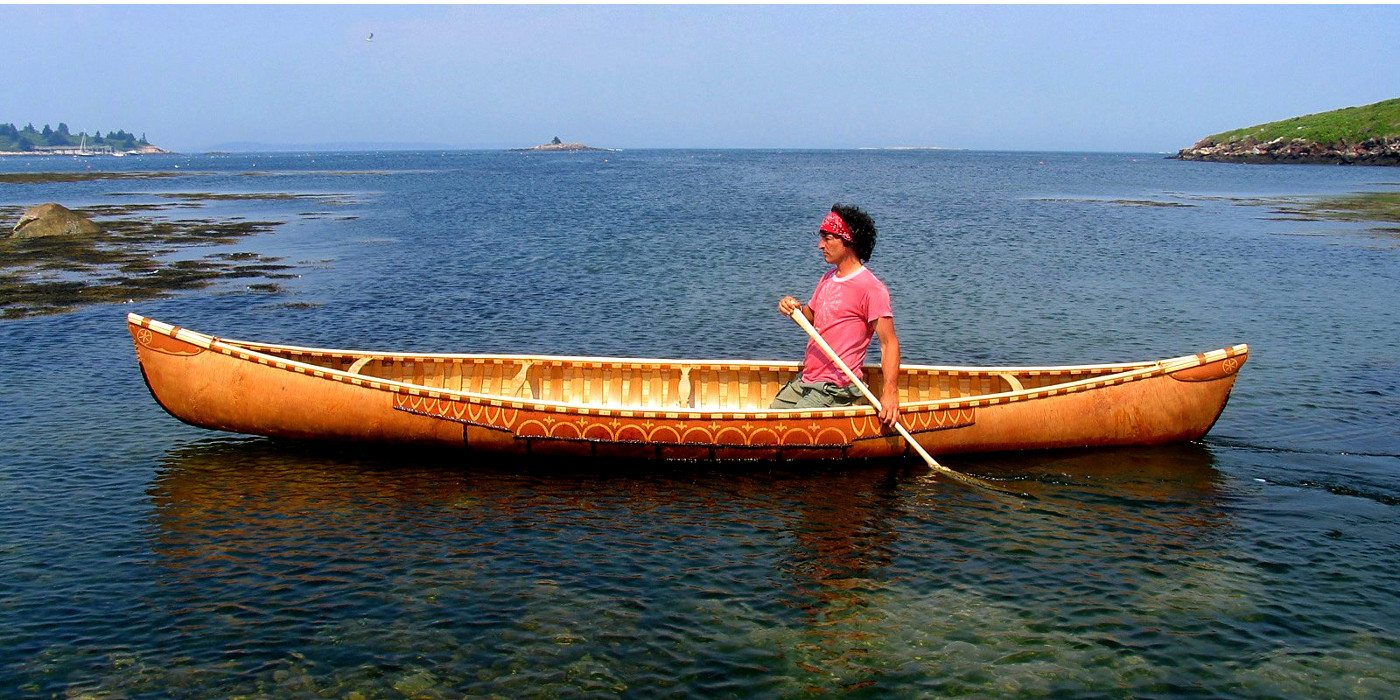 David's story speaks of ideals and values shared by Native People all over the world, and shows the intersectional and shared struggles that indigenous and non-indigenous peoples experience in order to preserve our planet and the respect for our ancestors.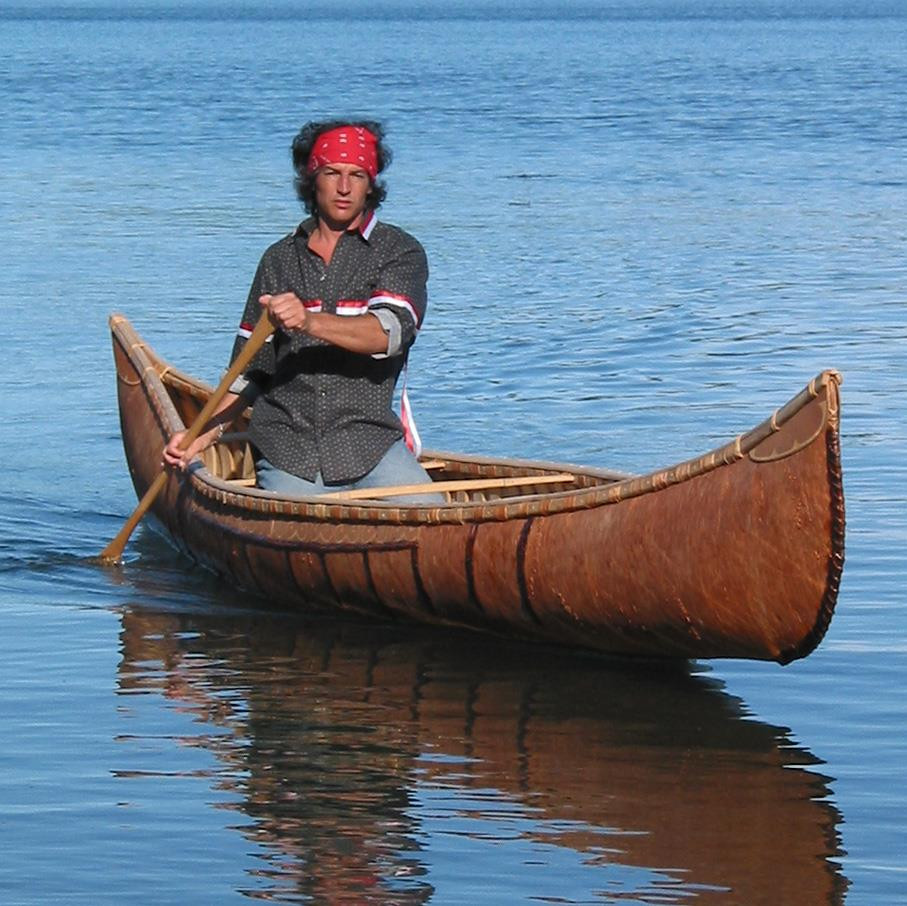 David's artistic work was specialized in birch bark canoes, baskets, and winter-bark etchings. All materials used in his works were hand gathered according to seasonal availability on tribal lands and hand prepared using hand-made tools and those passed on to him by his elders. His canoes were built to the specific hullforms of the Passamaquoddy-Maliseet style (deadrise, rocker, tumblehome and sheer) for use on lakes, rivers, and ocean. His baskets reflect the utilitarian forms devised by his ancestors and display David's own design and innovation based on the limitations and attributes of the material. David's etchings show the Algonquin double curve motif and payi homage to the anthropomorphic, zoomorphic, and geometric design elements of the Eastern Wabanaki Nation. As an advocate for the next generation, David worked with as many as 700 students per year in his educational programs.
Patricia Ayala Rocabado, David's widow
PhD. Anthropology
Autobiographical Notes
I was born in 1962 to a family of Passamaquoddy artists. From birth I was surrounded by the language, artistry and spirituality of my elders and community at Sipayik, Passamaquoddy Reserve in Perry, Maine. My Grandmother Beatrice Soctomah was a highly regarded Brown Ash and Sweetgrass basketmaker having learned her craft from her elders. My great grandfather Sylvester Gabriel was the last of the old time bark canoe and basket makers in this Passamaquoddy community. The focus of family and community in these difficult political times for the Passamquoddy people solidified my deep respect for the ways of my ancestors and the value of our ancestral homeland.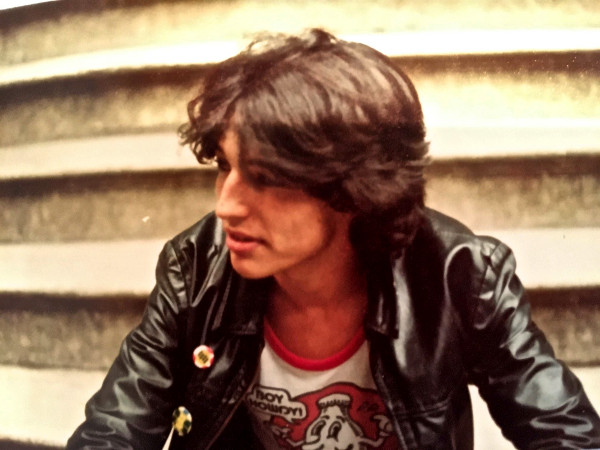 After graduating from High School in 1980 I began working at Blueberry Cove Camp a coastal summer camp in Maine with inner city youth. The focus of this camp was to expose young people to the natural world. While leading sailing, fishing, canoe and hiking trips on the rivers, offshore and in the forests of my homeland brought to bear the deep respect I have of the natural world. After several years of travel in the United States and Canada visiting indigenous communities and working as a group home counseler for at risk children I returned to Sipayik to work with my elders and community.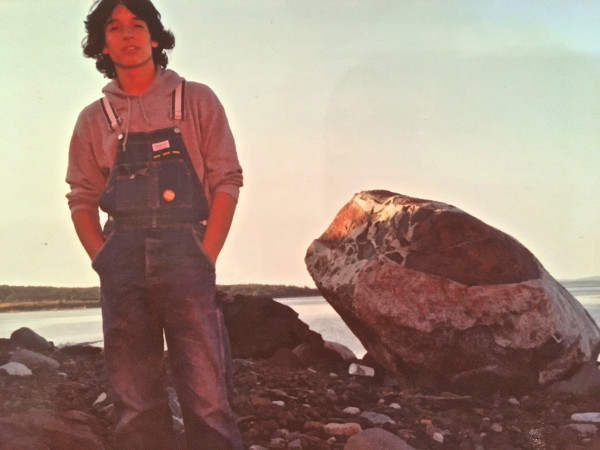 In 1992 I turned my attention to the threatened art forms of the Passamquoddy people, initially focusing on the materials and tools required in the construction of brown ash baskets to help my grandmother and other elders in the community. Many of whose tools were over 100 years old I became proficient in the construction of ash guages, splitters, sweetgrass combs, basket molds as well as the gathering and preparation of materials. My desire from the age of 6 was to build a bark canoe and with knowledge of the forests, the sea and the gathering processes in hand I sought to solidify my knowledge by studying traditional boat building and naval architecture. After graduating from the Marine Trades Center I focused my work on design and construction of large scale ocean going sail boats and traditional western fishing craft as a means to raise my young family. In 1996 I began the in depth study of birch bark containers and canoes. Primary sources of information were my grandfathers work within the collections and publications of several museums, including the Abbe Museums 1957; ̈Uses of Birchbark in the Northeast: and the Smithsonians 1964; The Bark Canoes and Skin Boats of North America. Working with canoe maker Steve Cayard as understudy and building partner in 1998 I began teaching bark canoe construction at the Wooden Boat School.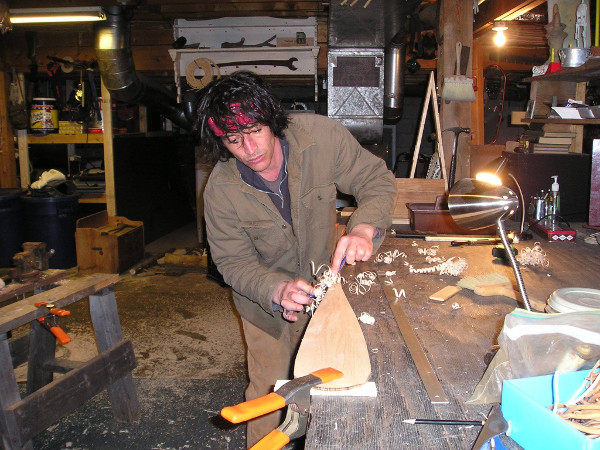 Working with the Maine State Legislature I advocated for and helped initiate LD 190 ̈an act to further the understanding of Maines First People in the public school system. In 2005 I founded Nulankeyutmonen Nkihtahkumikumonen (We Protect our Homeland) a group of Passamaquoddy people committed to protecting our ancestral homeland. Since 2001 I has focused solely on full scale canoe projects, Wabanaki design and basketmaking workshops in Wabanaki communities and in the public school systems in Maine and several museums in the United States and South America. This combined with political work in my own community and with indigenous groups in South America and at the United Nations. I continue my work as an educator building 2 canoes a year in Wabanaki communities, working with public schools in Maine sometimes working with as many as 700 students a year in my workshops, with the National Park Service as an educator and lecturer, museum research and academic lectures, radio and television programming. Re-creating the historic canoe routes of my ancestors and as an advocate for the next generation.
David Moses Bridges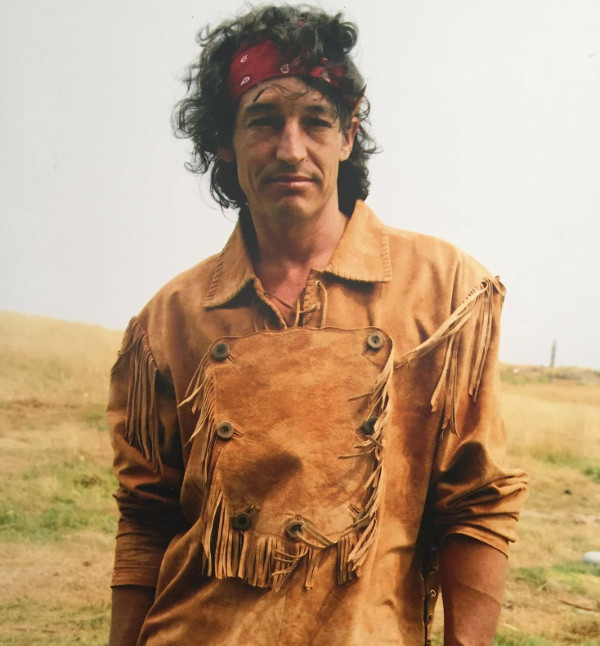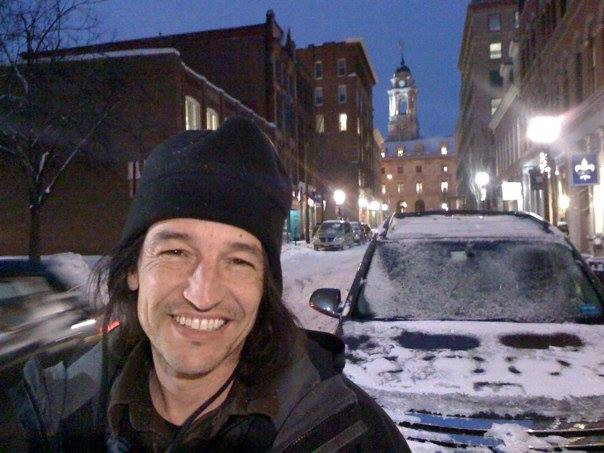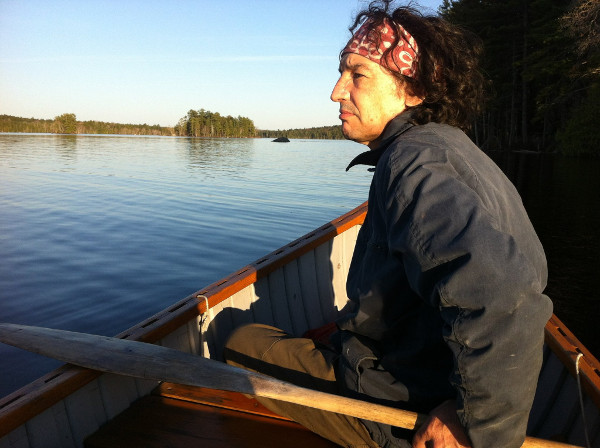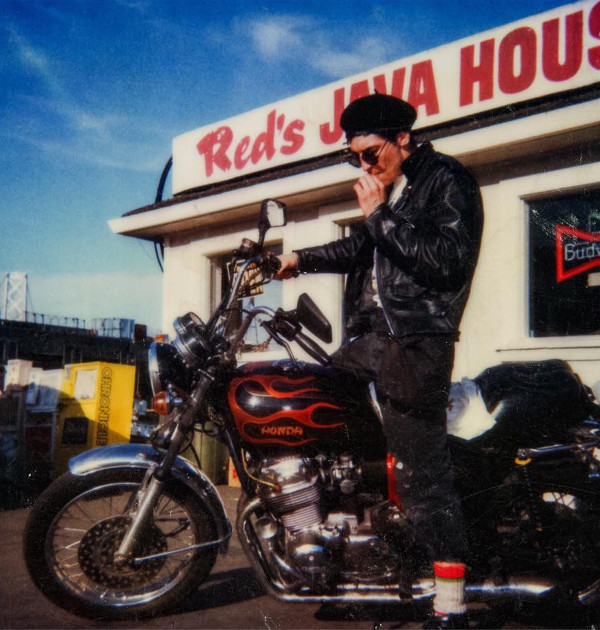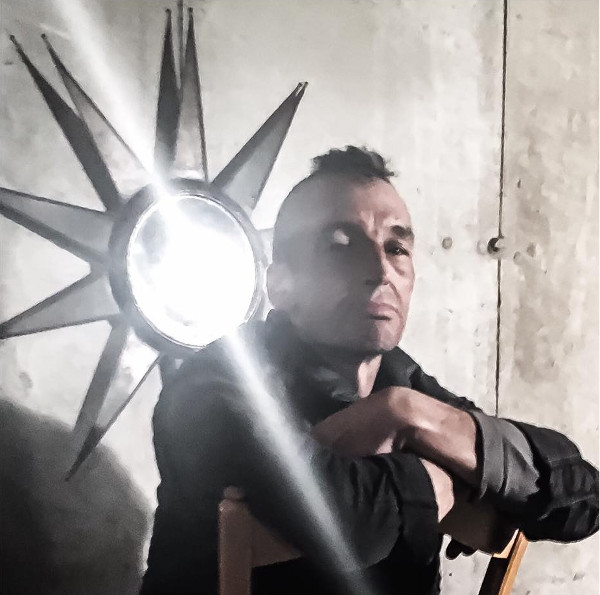 To be indigenous in 1962 was to be doomed, I was born into a world of tail-fins and beehives that soon morphed into a world of moon-shots and micro-dots. Termination was the word, but not for you, only for the savages who refused to advance into the world of plastic and television. The world moved from black and white to living color in my short sweet youth and by the time i was 10 my heros were Jimi Hendrix and Billy Jack. I missed Alcatraz and the BIA takeover but Wounded Knee made me realize we were still here, When they told me at school there were no Indians left I wondered who that was in my living room speaking Passamaquoddy. I watched Apollo 11 with my great grandfather and he knew they shouldn't drill that hole 30 feet into the moon. When I was 6 I knew what i would do when I grew up, when I was 11 I knew that Jesus was a myth. I felt the horrible reign coming down, my first job was a grave-digger when i was 14, I moved on up to trash-man very quickly. And here I am today. Call it what you will, we all came from different places. The world was under my feet and still is and now I only translate what I see. I miss my Grandmother everyday just like you, Do you know what it feels like to see your Nation fight to be alive?
David Moses Bridges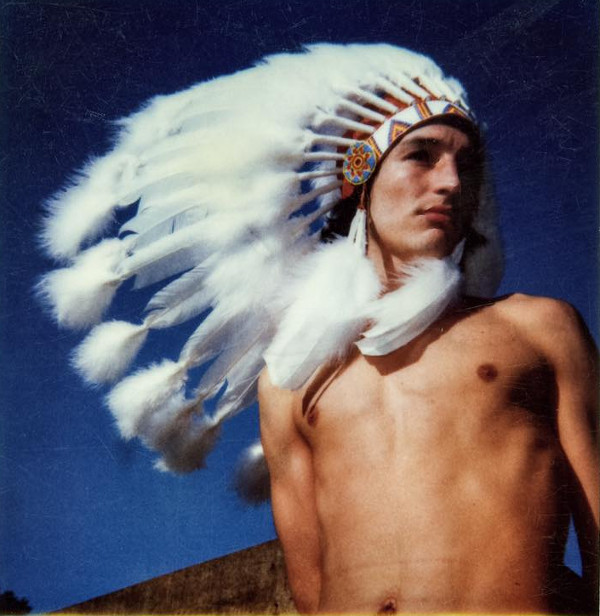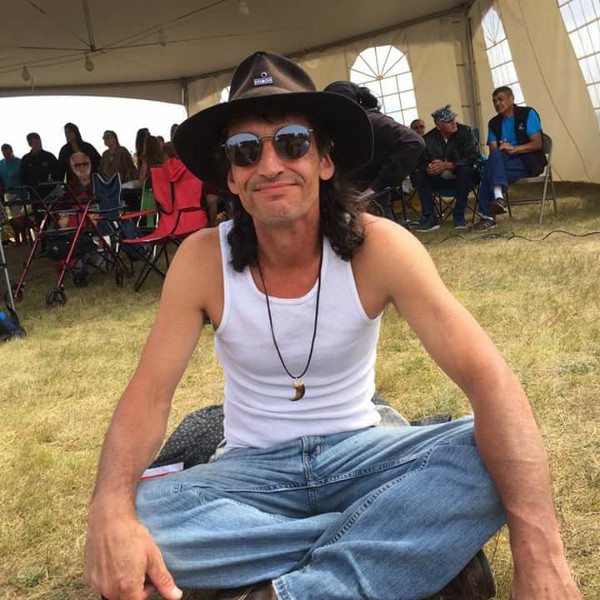 Family and Travels
David was born May 17, 1962 in Portland, Maine. He grew up in South Portland, in the Willard Beach area. His father, Earl Linwood Bridges, is a South Portland native whose family settled on Swan's Island, Maine in the late 1700's. His mother, Hilda Mae Soctomah Bridges Lewis was born at Sipayik (Pleasant Point) near Perry, Maine. Sipayik is the traditional native community of the Passamaquoddy Tribe. Sipayik is located at the easternmost part of Maine on the shores of Passamaquoddy Bay. While David grew up in South Portland, he spent much of his summers at Sipayik, living alternately with his great-grandfather, Sylvester Gabriel; grandparents, Beatrice and Simon Soctomah; aunts. Jane, Nancy, Lena, Frannie; and uncles, Harvey and Melvin. David is from the Soctomah family and is related to the Gabriel and Neptune families. In 1978 part of the family moved to Ohio for a few years and Hilda remarried Sidney Lewis. David's siblings, Darell, Jennifer and Mathew, live in Portland and Bangor, Maine.
A year after finishing high school in 1980, David moved to San Francisco, California where he lived for ten years. To make a living as a young man, David worked as a group home counselor for at risk children, painter, carpenter and builder as well as in different stores on Haight Street. Once a year he traveled back to Maine and worked in seasonal jobs, no doubt one of his favorites was to work as a camp teacher. During his years in San Francisco David explored different art expressions like drawing, painting, writing and making jewelry. Photography was also an important part of his life in this city, his partner, Gretchen Anderson, was a photographer from Wisconsin. David traveled across the country several times visiting big cities, small towns and indigenous reservations.
When David moved back to Maine in 1992, he studied boatbuilding and, eventually, learned the craft of his great-grandfather Sylvester Gabriel, first through classes at the Woodenboat School in Brooklin, Maine, with Steve Cayard. Later David and Steve partnered together in scholarship and craft, learning the history of the craft, and visiting and consulting with Museums up and down the eastern seaboard. They also taught workshops in the Native and Anglo communities learning and understanding, in all ways that they could, the birchbark craft and its connection to the native people of the region.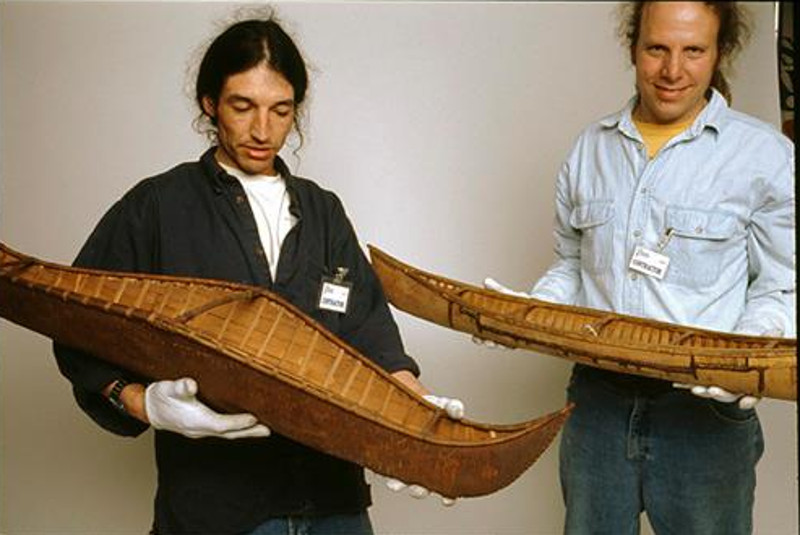 In 1993, David and Jessica Francis, a Passamaquoddy beadworker from Sipayik, built a family together with their son Tobias. They lived in Portland and Blue Hill while David was working as a boat builder and starting his career as a canoe and basket maker. When Tobias was 4 years old, he and his father moved back to Sipayik and David studied history at the University of Maine in Machias. They then moved to Bethel, Maine, where David had one of his most prolific birchbark workshops at home. Since a young age, Tobias participated in several canoe and educational projects and traveled with David around Maine and nationally. In 2017, a few months after David passed away, Tobias participated as an apprentice in a canoe project lead by Steve at the Damariscotta River Association. In 2016 David and Steve had been ready to build this canoe but the project was postponed because of David's health issues.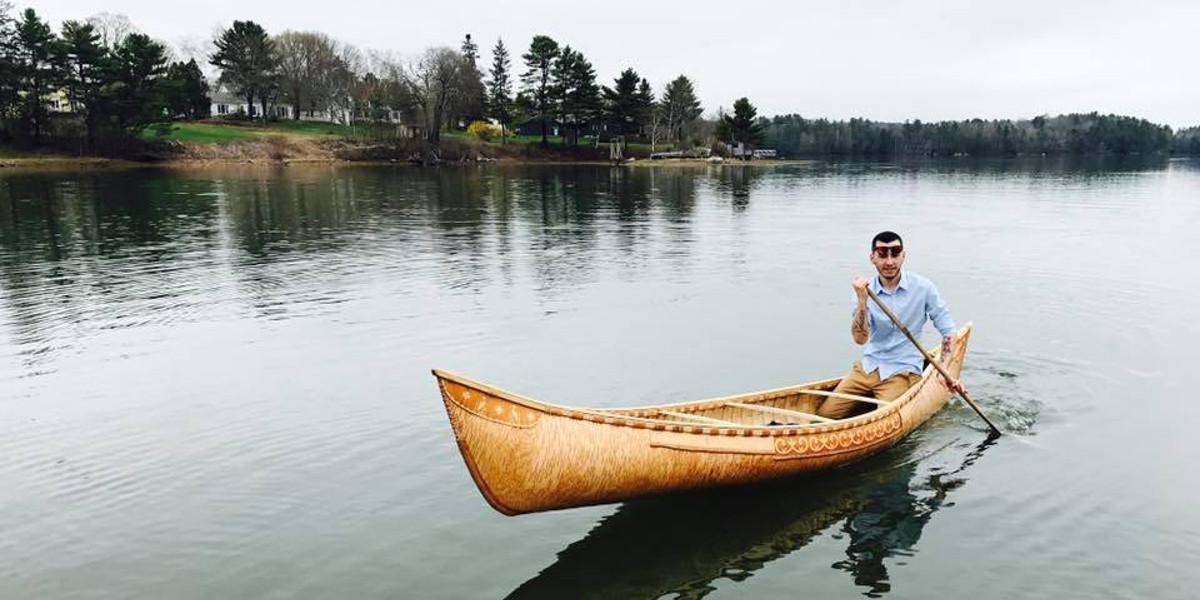 In 2007, at the height of David's artistic career, cultural promotion, and environmental advocacy, David met his wife, Patricia Ayala Rocabado, in Indianapolis when he was applying for a scholarship at the Eiteljorg Museum and she was studying for her Ph.D. in Anthropology. After traveling back and forth for a couple of years between the USA, Chile and Bolivia, they married and had two children, Sabattus and Natanis and lived together in Bar Harbor, Maine for several years. During their life together, Patricia and David strongly supported each other's careers. David attended several archaeological or anthropological conferences in North and South America with Patricia and; a couple of times, they made presentations together. Patricia and the boys participated in several canoe projects, as well as at Indian markets and David's talks in schools, universities and cultural institutions.
After David's passing in January of 2017, Patricia, Sabattus, and Natanis returned to Oruro, Bolivia, where Patricia was born and raised with her parents and siblings before migrating to Chile and the United States. David loved and often visited Bolivia and spent time with his and Patricia's family there over the years. As an anthropologist, over the past 15 years, Patricia worked as an expert in collaborative and indigenous archaeology in South America. She taught at the College of the Atlantic in Bar Harbor and collaborated with the Abbe Museum in their decolonization projects. After moving to Maine, Patricia became personally connected to the Passamaquoddy community, knowing and valuing the unique cultural heritage of the Sipayik community. Currently, she is working on an art book and film about David as well as on ethnographic research of David's life history.
Written by Jean Flahive and Donald Soctomah!!! Available on Maine Authors Publishing: https://maineauthorspublishing.com/the-canoe-maker Available on Amazon:https://www.amazon.com/-/es/Jean-Flahive/dp/1633811719
The Damariscotta River Association and Penequid Land Trust merged and became Coastal River Conservation Trust (Maine). They relocated to Round Top Farm in Damariscotta and named one of their spaces "David Moses Bridges Educational Hall". This hall has birch floors and ceiling in homage to David and his birch bark artistry. Post on Coastal Rivers …